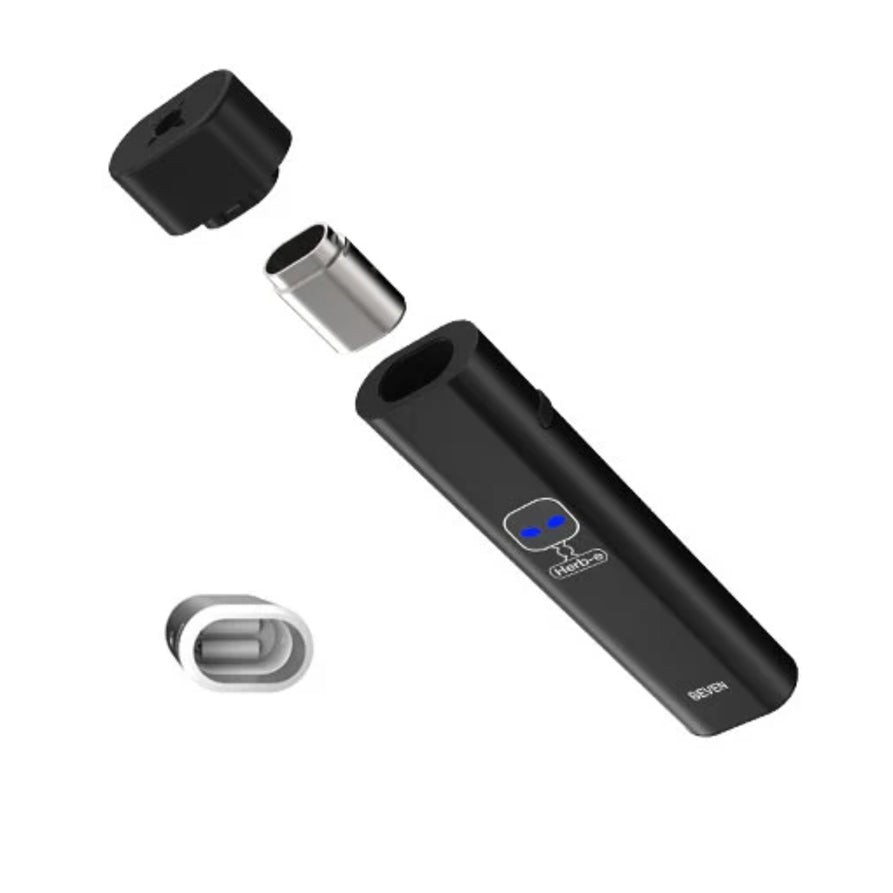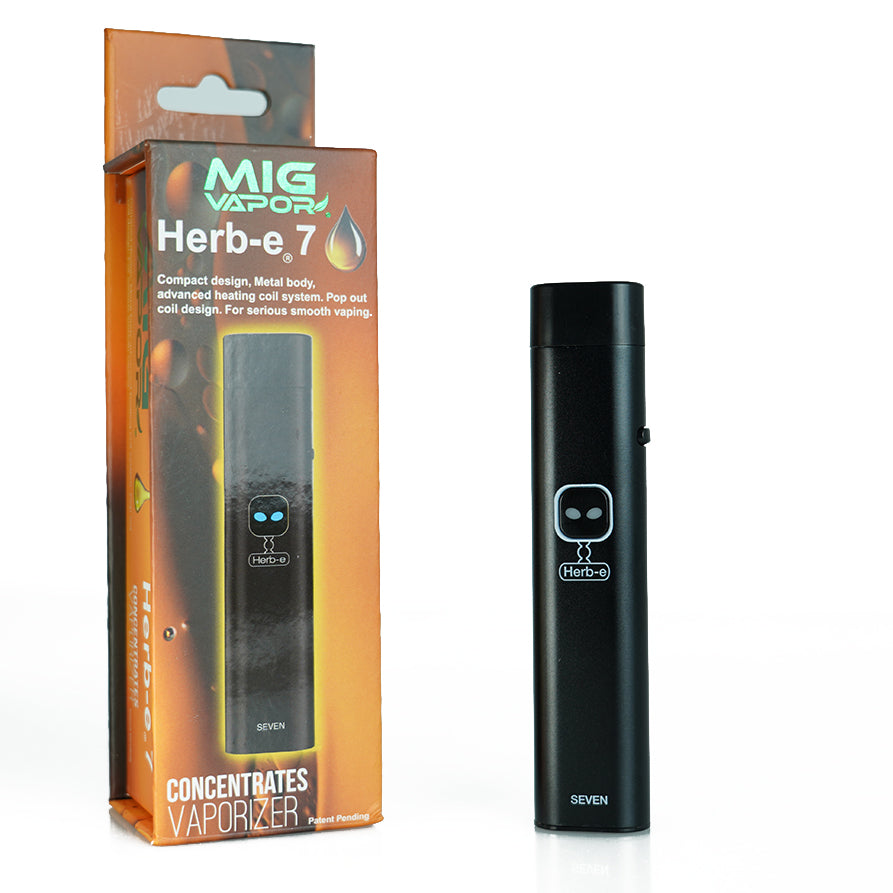 Herb-e 7 | Micro wax Concentrate Vaporizer
Regular price
$29.98
Sale price
$25.48
Save 15% Holiday Sale!
/
---
Migvapor Herb-e 7 wax concentrate vaporizer
The all new reactor coil chamber will click out like a camera flash card. This insures easy cleaning and allows for future coil projects. The Reactor Coil is a unique reverse coil design. The Kanthol wire is dipped in ceramic and fired. This eliminated wire to wax combustion that has been the standard since inception of the e dab pen. As always with the Herb-e line you have multiple settings for heat. Green Herb-e is for cool vaping, Blue Herb-e is for medium vaping and red herb-e is for powerhouse vaping. Careful with this setting.
How to use Herb-e 7 by Migvapor

1.Power on/off:
① Press power button 5 times continuously and the blue light flashes 3 times;
② Press power button 5 times continuously under power on state and the light flashes 3 times to indicate power off.
2.Switch gear variable voltage vaping: Under power on state, press power button 3 times continuously to switch voltage from 3.0V(Green)---3.4V(Blue)---3.7V(Red) cycle in order
3.Out and insert for heating cup:
① Press the heating cup gently into battery until hearing a sound"Da". It means the heating cup working well and can be used;
② After ensuring the heating cup is not hot, press and hold the small button beside the battery. The heating cup will pop up from the battery smoke cup chamber. If not, please pick the finger slot on both sides of the heating cup to pull it out
4.Vaping The Herb-e 7 by Migvapor: Press the power button to vape under power on state. Vaping time is 12s. The light will be always on during vaping and off when loosen pressing. The light will flash 10 times alarm when vaping time over 12s. The battery is in standby state.
5.Charging the vaporizer: Please charge by using 1A charger with Micro USB. The red light is always on during charging; fully charged when it is green, please pull out the charging head in time.

Vape tips: 1.Low voltage alarm: Please charge the machine when the red light flashes 15 times to alarm. Please use it again after fully charged. 2.Short circuit: Please stop using the machine when the red light flashes 3 times quickly. Please check if there exist short circuit in heating cup or other parts. 3.Unused timeout: Under power on state, not using the machine beyond 20min, the machine will power off automatically. Please turn on when need to use it again. To turn off the device: Click or press the button 5 times rapid and your device will turn off.
Shipping occurs Monday - Friday except for Holidays.
In-stock orders placed before 12pm EST Monday - Friday ship the same day.
In-stock orders placed after 12pm EST Monday - Friday ship the next available business day.
All purchases are shipped in discreet packaging.
Carrier shipping delivery time frames are estimates and not guaranteed.
All addresses are validated for accuracy.  In the event of a validation error, we will contact you via email.
International orders may take additional time to ship and receive.  We thank you in-advance for your patience.
Click here to read our full shipping policy.
All products sold on VapeBatt.com are brand new, authentic merchandise.  In the event you would like to return your purchase you may do so if it falls within the guidelines of our 30-day return policy.  There are different processes and procedures dependent on the return reason.  If you have a return inquiry or need assistance with a damaged or defective product, please emailcs@vapebatt.com.  To read our full return policyclick here.